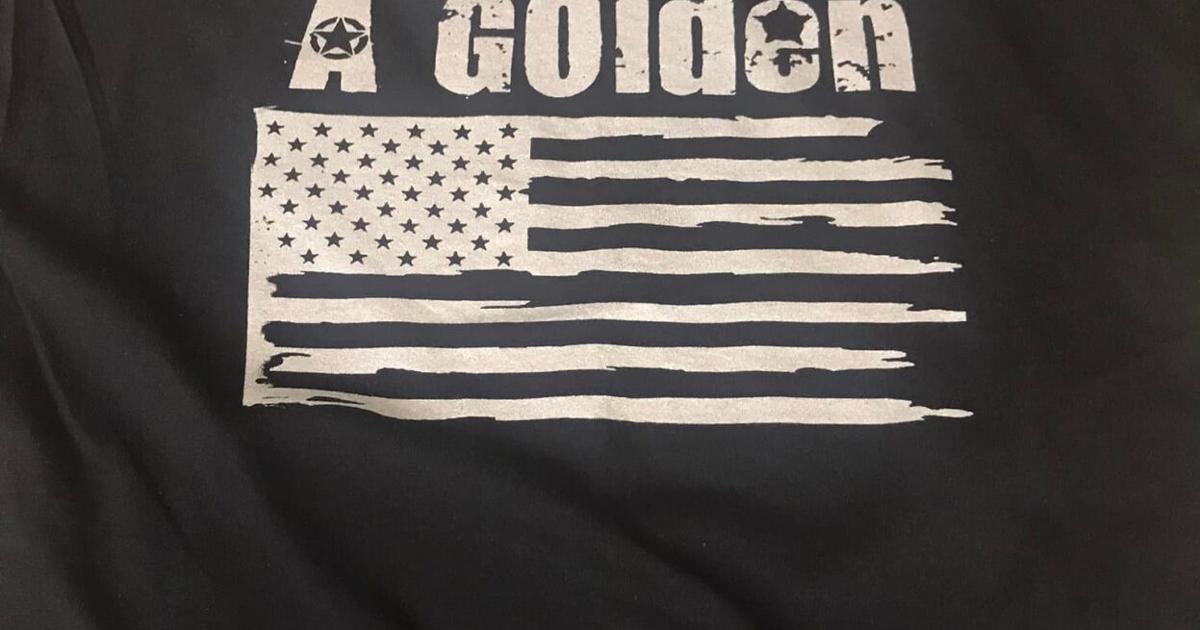 The Plug T-Shirt Store raises funds for Danny Golden | MG Pride 2022
All companies are committed to their customers, but few have shown their commitment to the community like David Burchett and his wife Juana.
As owners of t-shirt shop The Plug, these Mt. Greenwood residents used their extraordinary creativity and energy to not only build a thriving family business, but also to build the community.
However, none of her fundraisers to help others have been as important as the one currently underway.
To support Danny Golden, the off-duty Chicago Police Department (CPD) officer who was recently paralyzed from the waist down after being shot, The Plug is raising funds to help him and to give local residents a way to show their support for the Mt. Greenwood resident who now faces a future full of challenges.
Golden, 32, is the son of a CPD detective and an emergency room nurse, the second of seven children, and served with honors in the US Army. He joined the police force as a third-generation CPD officer.
A talented wrestler at St. Rita High School (Class of 2009), he later shared his talents by coaching youth in the sport. Wrestlers learn to be tough, and since his discharge from the hospital, Golden has shown amazing courage and vowed to rise to those challenges.
"Fight Like a Golden" is the motto Danny follows and to support his recovery, The Plug raises funds by selling shirts and hoodies emblazoned with this motto and donating all proceeds to Golden.
Fight Like a Golden apparel is available online at The Plug
shop at storesimple.com.
The fundraiser is already generating community support. On July 17, The Great American Bagel on Cicero Avenue in Oak Lawn sold the items during a fundraiser. All proceeds were donated to Golden.
At The Plug, David, Juana and their sons David II and David III are proud to be involved in efforts to help Golden. The eldest Burchett is a father, teacher and wrestling coach and he knows Golden as a great person who deserves support. The Burchetts are urging everyone to join the effort.
Since opening in January 2018, The Plug T-Shirt Store, 3652 W. 111th St., is a truly unique store that connects customers with their own creativity by designing personalized apparel from the heart.
Customers at The Plug can have their own design on a t-shirt in minutes and by offering truly exceptional service to every customer, the owners have built a long list of friends.
The people at The Plug are very experienced and David has 15 years of screen printing experience. Everything is personalized for each customer, and The Plug does it faster than anyone else.
Products from The Plug are great for family reunions, anniversaries and birthday parties. And people can add a touch of bling to their attire with glitter or metallic gold.
Tailored clothing from The Plug is available in t-shirts, v-necks, long sleeve cotton shirts and hoodies. Customers can also bring their own clothing for personalization. It also offers a wide range of first responder clothing.
The Plug also creates custom quilts from treasured old t-shirts and clothing. People can now turn unused clothing collected over the years into a treasured keepsake perfect for college student trunk parties or other occasions such as memorials.
And his rhinestone bling shirts and glittery rhinestone-laced hoodies are a hit with customers.
In addition, The Plug offers designs printed on koozies and tote bags. The Plug also offers spirit wear, team uniforms and more.
The Plug T-Shirt Store has earned its excellent reputation because the owners go out of their way to provide exceptional service and they specialize in last minute orders. So if people need their shirt the same day, that's no problem. The staff understands that needs can change at the last minute, and with its rush service options, The Plug takes care of that.
In addition to its merchandise, the plug also offers classes and parties.
Courses are available that teach design, vinyl, photoshop, screen printing, screen making, screen fixation, and single color, multicolor, and mass production.
Sip 'n' Print parties are a hit for all occasions. Partygoers print their own shirts with friends and family while having a great time.
The parties take place on Friday and Saturday evenings and have a minimum of 10 participants. A mixologist, photo booth and DJ are available upon request.
In addition to his efforts to help Danny Golden, The Plug has also been helping local businesses, such as during the pandemic outbreak through his online store, which sells t-shirts and other items printed with a company's logo. The companies shared a link for selling their items, and payouts to the companies were made weekly.
The Plug also hosted "Dunk a Small-business Owner" to raise funds for the Chicago Rocks and St. Christina Girls' Basketball.
The Plug is also a proud sponsor of many youth organizations including the Mt. Greenwood Mustangs Wrestling, St. Christina Athletic Teams, Clissold Elementary School and the Merrionette Park Express.
For more information, call (773) 980-1108 or visit their website at theplugt-shirtstore.com.