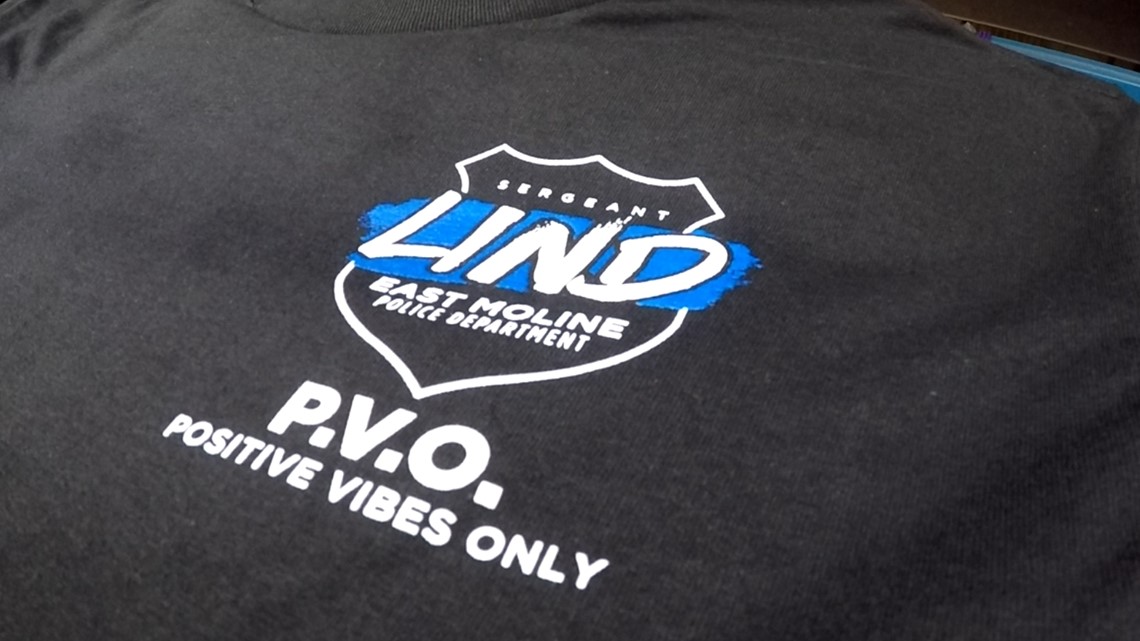 The Aledo company makes shirts to help the Lind family
ALEDO, Illinois – An Aledo apparel company is printing shirts in support of an East Moline police officer wounded on the job.
Arsonist Adrian Rogers, 52, attacked Sgt. William Lind while the officer was trying to arrest him, police say. Police added that Sgt. Lind is still recovering at a hospital in Peoria.
RELATED: East Moline police sergeant in critical condition after being attacked by suspected arsonist
Clothing company Primetime Apparel decided to create shirts after hearing the news as their owner has known Lind for years.
"That's exactly what we do, which is to help other people in times of need, and that's what we're doing here," said Justin Roessler, general manager of Primetime Apparel.
The company worked closely with the Lind family to create the design, which carries a unique message: "PVO" or "positive vibes only".
"It comes straight from the family, and the family lives on it every day," said Rössler.
As of November 4, the company has sold more than 425 shirts and raised more than $4,000.
"The most rewarding thing is seeing something public that you've made and that the community is 100% behind," Roessler said.
RELATED: Man accused of assaulting East Moline police sergeant pending eligibility hearing
The shirts are available at this link. Visit Primetime Apparel's Facebook page for more information.
The sale runs through Sunday, November 13, and half of every $20 t-shirt goes to the family.
QC Custom Tees in Silvis also sells shirts in support of Officer Lind. For more information see below:
RELATED: The Silvis company is making shirts to raise funds for East Moline police sergeant's family