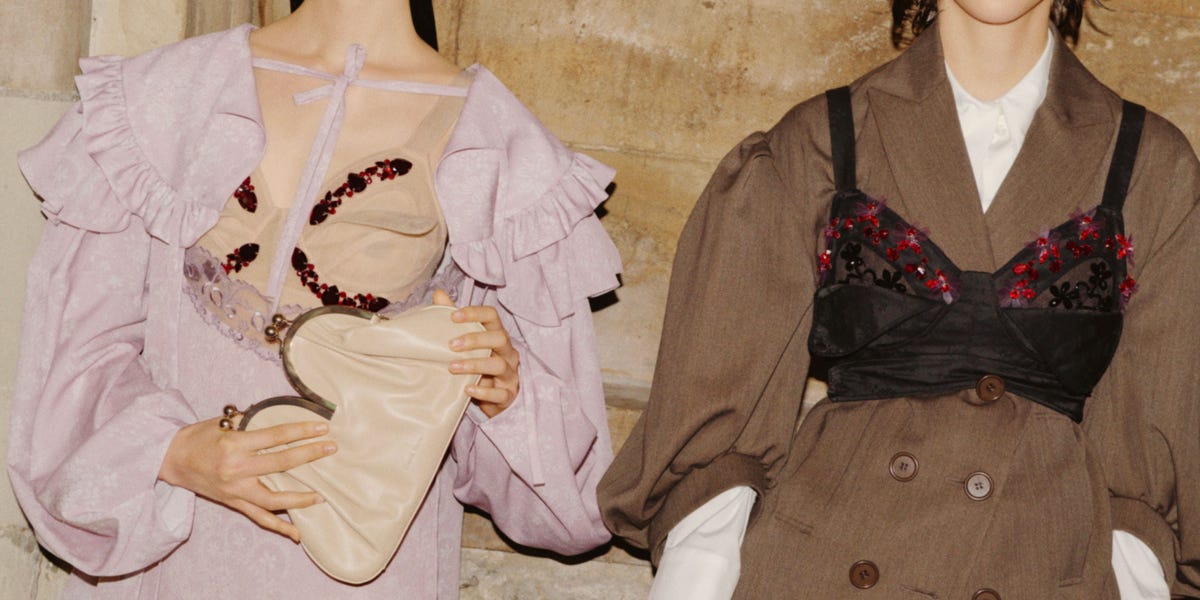 Simone Rocha on the impact of motherhood on her work
It's almost like a play," says Simone Rocha about putting together a fashion collection. "There is a beginning, a middle and an end. A narrative." Rocha has narratives on his mind lately—beginnings and middles, but certainly no endings. She's been doing shows for just over 10 years, an eternity for an independent fashion brand. Sitting in the lobby of a celebrity-frequented downtown New York hotel, sipping a cup of tea, unmistakably in tousled, voluminous all-black and chunky jewelry, she reminisces about the beginnings.
It was 2011 and the "tough girl" ruled fashion. It-bags were practically standard with studs, and models with sludge eyeliner were the street style flavor du jour. Rocha's first solo show at London Fashion Week felt like a breath of rose petal-scented fresh air to me, then a Baby ELLE writer. Some of her models wore textured white meringue-like confections that seemed to float down the runway. Being a girl was the opposite of cool back then, but Rocha didn't care. Femininity, she says in her sound bath – soft Irish accent, "has kind of an undertone, this idea of ​​strength underneath, and I've always been fascinated by the combination of the two." with plexiglass heels, these were masculine brogues. She wanted to counter the heaviness of the shoes with "something light and sensitive and almost fragile," she says. "And it was just that that wasn't the zeitgeist back then. So it felt very alien." Designers were intrigued by the new craze for digital prints, but she was a DIY girl. "From the very beginning of my work, I've been very focused on the needlework," she notes, whether it's embroidery, crocheting, or hand-painting garments.
Rocha has developed a visual signature that relies on a few key elements: not only femininity and craftsmanship, but also a palette that feels like her. She's always been drawn to the drama of red, she says. "It symbolizes love, but also blood and pain. I like to mix it with other colors to see how that can create new tension and friction." Her reds stand out against a predominantly black and white background, chosen because "I've always loved light and explore darkness together".
And then there's the intensely intimate quality that makes her work almost more auto-fiction than play. For Rocha, the personal is, if not political, at least sartorial. Smuggling elements of her own experience into a collection, she says, "makes it more than just off-the-rack clothes." Daughter of a Chinese fashion designer and an Irish mother who ran his business, Rocha has brought both sides of her heritage to her work and collections inspired by the Chinese tradition of Ancestral Day (the Qing Ming Festival) and traditional Irish techniques such as Carrickmacross lace and Aran knitting. "I've always found this connection between history and family and how it translates into garments very interesting," she says.
Their excursions often lead them deeper into the traditions of their homeland. "I go into a wormhole and I find a fable about Ireland that's really interesting the more I delve into it," she says. "It could be from the turn of the century, but you find it's very relevant today." It's also modeled on Ireland's natural landscape, using wet-look lurex yarns to evoke the sea and transforming the straw traditionally used in celebrations into the wren is worn, in hay macrame embellishments. And she often gazes at the regalia of Catholic rituals, from baptisms to weddings to funerals. "I think it comes from growing up in Ireland and the heaviness of things like wakes," she says. (After we wrap up our conversation, she invites me to view part of an installation at her corner SoHo store: an archway with Plexiglas panels resembling stained glass. Two Rocha employees, sharing the designer's ethereal warmth, lead me under its rosy arches, and I feel like I'm in the fashion church at this moment.)
Since Rocha has two young daughters, her narrative has recently expanded to include motherhood. Her spring 2022 collection evoked diapers and nursing bras, and lit-up garments that normally belong in the closed world of the maternity ward, not the catwalk. She had an impulse to "explore those things that aren't really discussed" and decided to give them a runway-worthy glamour. Case in point: a heavily decorated maternity bra. This collection, which was her first personal show in a year, "almost felt like a baptism for myself."
The birth of her children has really brought a kind of rebirth for Rocha. Having daughters, she says, "made me want to be very strong for them and really [show] them what you can do. I take great pride in my work and this has made me take it much more seriously. But at the same time, because one of my girls is six years old and has this amazing innocence, the naivety of it also inspired me. So it's a mix of rigor and naivety, and I find that very inspiring too." Innocence and experience, rigor and softness: this is perhaps the ultimate metaphor for Rocha's life's work.

This article will appear in the May 2022 issue of ELLE.
This content is created and maintained by a third party and imported to this page to help users provide their email addresses. You may find more information about this and similar content on piano.io