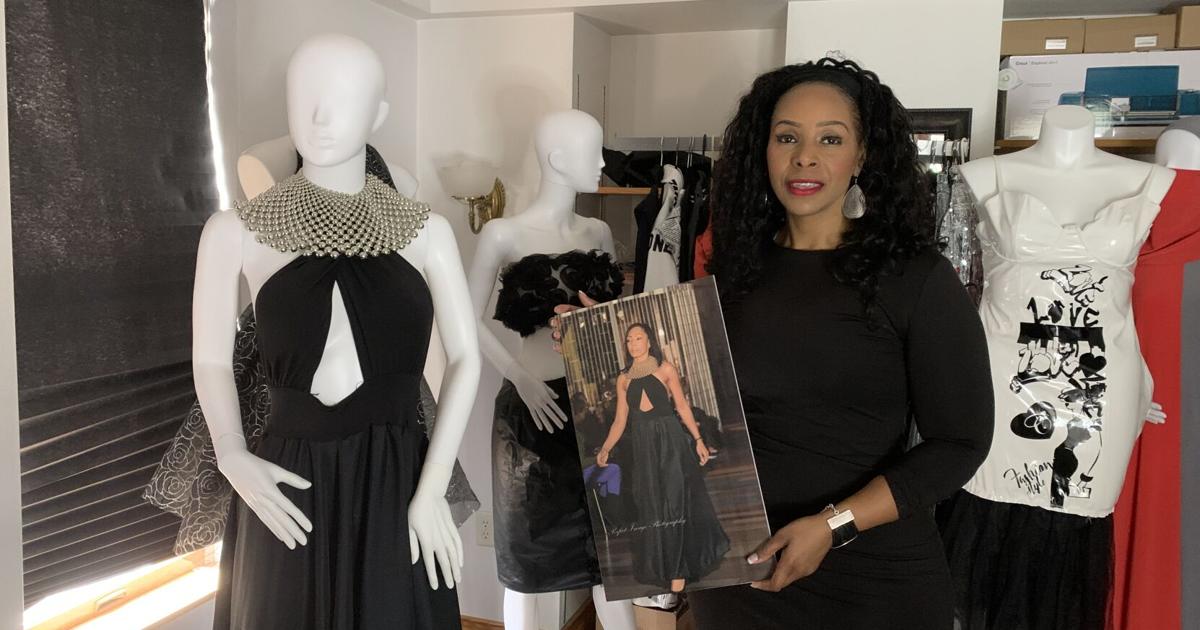 On the runway | Johnstown woman showcases her fashion designs at Exhibition, Show | features
JOHNSTOWN, Pa. – A fashion retrospective will appear on the catwalk to showcase the work of a local designer.
Camillya Taylor, owner of Camille's House of Styles salon and boutique in the Moxham area of ​​Johnstown, is celebrating 12 years in business and will be highlighting fashions she's created over the years.
An exhibition of her work will be on view at ArtHouse6, 126 Walnut St., Downtown Johnstown, Friday through October 16 from 12pm to 5pm.
A fashion show will be presented in conjunction with the exhibition on October 15 from 5:00 p.m. to 9:00 p.m. at ArtHouse6. Admission is $40.
"It's going to be a three-day exhibition, starting with things I created in the beginning to where I'm at right now," said the Johnstown resident.
"I'm fashion editor for Soul Pitt magazine, catwalk coach and have done runways everywhere so the show will have models from all over the area – Johnstown, Huntingdon, Pittsburgh, York, Harrisburg and Lancaster."
fashions, photos
The exhibit includes 12 mannequins dressed in Taylor's fashions, along with photographs of her work that she has made and photographs published in fashion magazines.
"There will also be things as it looked before and then go through the manufacturing," she said.
"I'm working with a manufacturing company from Turkey, so you'll see how it starts and what becomes of it."
In addition, the exhibition will include a documentary detailing how Taylor prepared and developed 12 Johnstown models for Summer 2021 New York Fashion Week.
The fashion show includes 10 to 15 models in different dress sizes.
"There will be 30 outfits in three different sets, and each will have a different theme," said Camillya Taylor.
"Some will be from the boutique, but other things will be pieces that I've created. We just did Pittsburgh Fashion Week and I want to show that in Johnstown."
fashion themes
Themes include futuristic fashion, urban couture and wild card.
Taylor's mobile boutique will be available for on-site attendees to browse and shop.
Taylor's 21-year-old daughter Nia Taylor will sing as part of the runway show.
"This creates a path for fashion because there are so many creative people here who can do so many things," Taylor said.
She said Johnstown isn't known for fashion, but she sees the industry starting to take hold in the area.
"We're pushing fashion in Johns-Town because there's such a demand for it," Taylor said.
"I also own a coffee shop (The Lounge Café) and we went on a coffee tour and found out that the bus driver was a designer and designed for her kids. There it is, but there is no outlet."
Her goal is to create an outlet for models and designers.
"I want to start a modeling agency and possibly a venue where we can do fashion shows and work with designers," she said.
"I also want Johnstown companies to connect with models and use them to create more professional marketing. If you're a small business you might not know where to find this, so I'd love to help other people with their marketing just by using mockups."
networking party
To bring the fashion industry together, Camille's House of Styles Salon and Boutique is hosting The Collab, a networking party on October 22 from 10:00 am to 5:00 pm at Studio 32, 32 Walnut St., Downtown Johnstown.
The event is open to photographers, videographers, models, makeup artists, hairstylists, designers and artists collaborating to create portfolios, composite maps, music videos, commercials and photos for a website.
"I want to bring creative people together," Taylor said.
"Everyone comes with a plan, so maybe I'll meet up with a videographer, a designer and a makeup artist and we'll see what we can come up with and when we're done we'll post on social media and tag everyone . You may come from different backgrounds, but you create an audience, so you work hand-in-hand and network more broadly."
Her goal is to connect people so they can take their careers to the next level.
"For me, I've had to travel and I've spent a lot of money meeting people, so here you're going to be able to come together in one place and I'm hoping to connect people with the right moving parts," Taylor said.
The cost is $100. Registration can be done by sending your name and contact information to [email protected] and a reply email will be sent.
For more information, call 814-659-0706 or visit Camille's House of Styles Salon and Boutique Facebook page at www.facebook.com/camilleshouseofstyles.