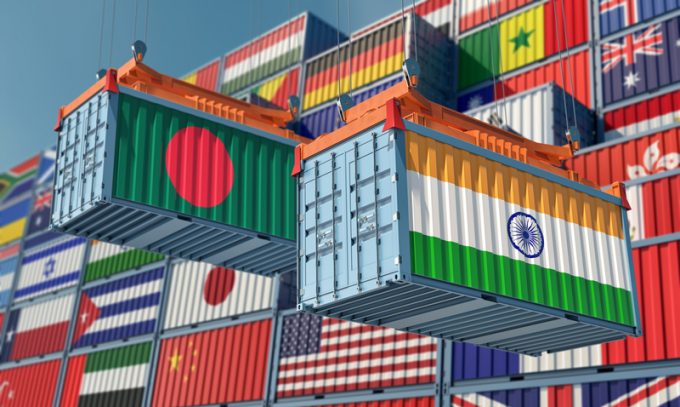 India and Bangladesh fear trade disruptions and payment problems
By Bangladesh Correspondent and Angelo Mathais, India Correspondent
Amid uncertainty about receiving timely payments due to sanctions western nations have imposed on Russia, Bangladeshi garment makers have been urged to exercise caution when exporting to Moscow.
The Bangladesh Garment Manufacturers and Exporters Association (BGMEA) has asked member factories to obtain guarantees from buyers prior to shipment.
The move to exclude major Russian banks from the international SWIFT payment system could block them from making or receiving payments.
Bangladesh has more than $1 billion in export trade with Russia, the bulk of which is clothing, the country's top foreign exchange earner. Garment makers fear they will face serious difficulties in receiving payments if Russian banks are removed from SWIFT.
Since major shipping lines have suspended their services to Russia, exports have stopped.
BGMEA President Faruque Hassan said The loading star: "I warned exporters: 'Think before you ship'. And don't seek my help to get payments if they get stuck. I cannot give any guarantees."
However, Mr Hassan said the BGMEA is also in talks about alternative ways to receive payment for goods already shipped should SWIFT block all Russian banks.
Siddiqur Rhaman, former BGMEA president and clothing exporter to Russia, said clothing manufacturers are monitoring the situation, with some buyers reassuring they would make payments through Italy, China or Hong Kong if SWIFT blocked Russian banks.
Mohammad Chowdhury, deputy general manager of MSC Bangladesh, said the line has stopped shipping containers from Chittagong to Russian destinations.
"I've got some containers filled with clothes ready for shipment. But I had to stop their departures," he said, adding that MSC will not accept freight bookings from Chittagong to Russia for the time being.
In India, which is unlikely to impose sanctions on Russia, industry observers concede that the crisis will "disrupt a little" container trade growth.
India's container volumes have steadily recovered since the second half of 2020, in large part due to better-than-expected export demand. According to the latest available data, the combined throughput of the country's 12 major public ports increased by 22% to 9.34 million TEUs in April-January – the first 10 months of fiscal year 2021-22.
However, with all major shipping companies suspending services to and from Russia, as well as those via the Baltics, Black Sea and Russia's Far East, trade will be disrupted.
"In 2021, our trade with Ukraine and Russia was $3.1 billion and $11.9 billion, respectively," said Sanjay Bhatia, co-founder of digital freight forwarder Freightwalla the loading star. "Current tensions are likely to weigh on businesses and the flow of goods to and from India for these countries."
Mr Bhatia said the crisis has added "another layer of complexity and uncertainty" for Indian shippers and freight forwarders, who are already tackling several supply chain challenges, including equipment availability and vessel capacity.
"Many trade organizations have already warned Indian exporters to reconsider their shipments via the Black Sea route and insurers are reluctant to cover damage or delays. In addition, there may be delays in deliveries, complications in payment options and difficulties in accessing the credit guarantee."
Indian executives on major container lines remain closed: "It's too early to comment," said a Mumbai-based line official The loading star.
At the same time, officials at the Jawaharlal Nehru Port Trust (Nhava Sheva) – a busy gateway for India's container trade – expressed optimism about throughput growth. The port handled 5.17 million TEUs between April and February (11 months of FY 2021-22), beating its previous record of 5.13 million TEUs for FY 2018-19.