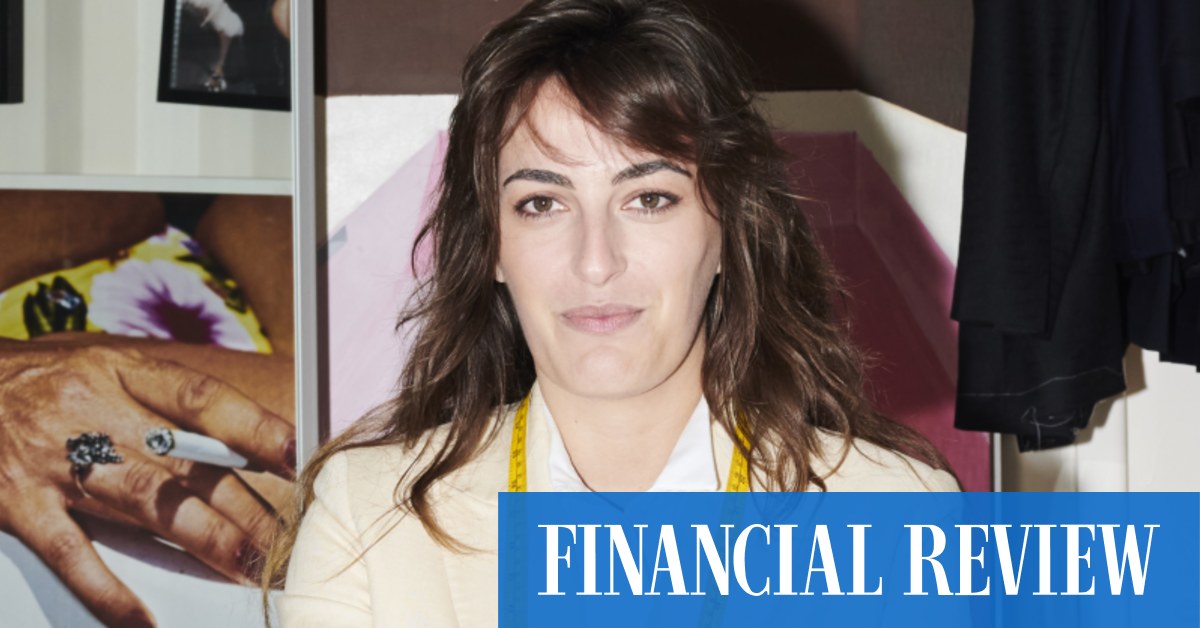 Emily Nolan, founder of E Nolan Tailors, makes suits – just for women
Even for those familiar with the process of customizing a suit, having one made by Emily Nolan is an adventure. For one, Nolan's studio space is a converted shipping container that her business partner's father bought on eBay and is located in a backyard in Hawthorn, Melbourne.
Packed, sardine-packed, with her ready-to-wear and suit samples, plus a treasure trove of artifacts and precariously balanced framed artworks, Nolan's office is deafening in the rain and, until recently, freezing in severe winters (she's now got air-conditioning installed).
After seven years here, she certainly needs more space. "This space allows us to do one-on-one fittings," says Nolan, who speaks at a fast pace and with an outsized energy that belies the patience and rigor required in tailoring. "But nobody really tells you what to do in this business. It's about me talking to my customers. Where do you want me?'
28-year-old Nolan founded E Nolan in 2016 as a ready-to-wear line before moving into bespoke tailoring in 2019. Obsessed with "bringing the beautiful techniques of menswear to everyone," she gained a solid reputation with brides and clients looking for special occasion wear. The surprising growth segment, she says, was women who wanted suits. "First I was like, 'Who needs a suit? Will anyone visit?" But suits aren't just for work anymore."
Having one made by Nolan is very much an exchange of ideas. "It starts with a cup of tea," she says. "I ask her, 'What's your favorite piece of clothing?' And I don't want to hear about a costume. I want them to tell me about that t-shirt they've loved for years or a pair of pants that makes them feel great. My obsession is with the in-between moments, the times when clothes are meant to comfort you."
Nolan started sewing in elementary school, learning the craft from both his grandmothers—one a milliner, the other a seamstress. "Mum didn't want me to pick up the hem of my school dress, so I pinned it," she says. "And then my grandmother said, 'If you're going to make it, do it right.'" Her milliner grandmother took samples from customers and made the matching accessories. "It was a celebration of the Sunday best."
This bowerbird approach—sofa-ready comfort, beautifully done—reflects Nolan's pick 'n' mix career path. After sewing with her grandmothers, she joined a neighborhood sewing circle at 13, surrounded by women in their 60s. "Four hours a week, all the oldies and me," she says. "Some of my fondest memories are in this room, learning from women much older than me, eating Arnott's cookies, and listening to SmoothFM." Nolan enjoyed it so much that she tuned into it every week until she was 25 Kreis joined – five years after founding her own company.
After graduating from the Whitehouse Institute of Design, top of her class and receiving a scholarship, Nolan sold her entire graduating collection to Georgina Weir, owner of luxury fashion boutique Le Louvre in Melbourne. It wasn't quite enough to pay the bills – she also worked in a café, doing an internship at Fashion and dabbled in public relations before being apprenticed to suit maker P. Johnson in Melbourne. The experience was formative and Nolan realized there was a market for a tailor made specifically for women. It became her dream.
"I've always felt like an imposter in clothes," she says. "It's always been suits for me. I've always felt great in '80s-style double-breasted blazers with big lapels." At first, she admits, oversized suits hid a body she was uncomfortable with. "Now I just feel great."