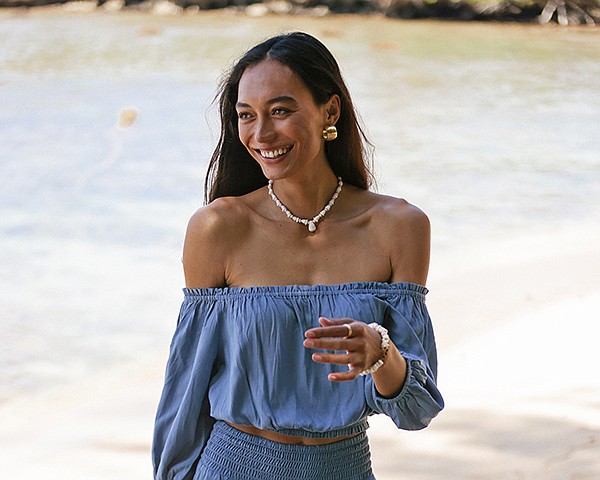 Bila77 reappears with a new California lifestyle look
Christian Chensvold, Contributing Author | Thursday 18 August 2022
Two interesting things rocked the fashion world in 1977. On the east coast, the movie "Saturday Night Fever" was released and spread the New York disco style to the world. And on the West Coast, a little psychedelic fashion label called San Francisco was born Bila77. And just as the film lives on forever as an iconic part of American life, so too has Bila77 found new life with a summer 2022 relaunch.
The look is about as far removed from the Brooklyn disco scene as it gets, and even San Francisco's counterculture vibe is gone. What remains or has been reborn is pure sunshine.
"I think there's a gap right now for the California lifestyle look that we're striving for," said Omar Dittu, son of the brand's founders.
And in case Golden State residents need a reminder, what exactly is the California lifestyle look? "Clothes that take you from the city to the beach," said Bila77 designer Melissa Leon. "Our garments are definitely comfortable to wear, carrying you from the beach to work to dinner."
The cohesive collection, which relaunched in June, features comfortable, flowy silhouettes. Soft trousers and overalls were almost immediately reordered by new customers. The prints are totally exclusive and based on copyrighted artwork, with some harking back to company archives from the 80's and early 90's.
Everything is designed in-house, right down to the laces and eyelets, which Leon says is unusual for a brand in the $50-$200 range. "Everything is unique to us. We're also very careful about what we produce and don't really buy into the churn-and-burn fast fashion pieces. We want pieces to live, be cherished and kept in closets for years to come. And we're definitely not trying to just follow trends," Leon said.
The focus on durability starts with the fabrics, which are made from eco-friendly recycled polyester, organic cotton and sustainably sourced viscose, all of which use less water and produce fewer greenhouse gases. "When we decided to start over, we definitely wanted to make better choices for our Earth," Dittu said, "and that really starts at the stuff level."
Bila77 had been continuously active since its inception in 1977, but had taken a back seat to the main line of the family, Bila, a mass-market brand that is being phased out. Finally a website has been created bila77.comwith e-commerce and sun-kissed photo shoots in Hawaii.
"We're ready to take things to the next level for the next generation," Dittu said. "We're taking a new focus that wasn't there before, a boutique and sustainable focus, and it's younger so it can reach a broader customer base."
But if "77" refers to the year the brand was founded, what does "bila" mean? "That's actually a very good question," Dittu laughs. "According to my father, it can either be a blue-eyed cat or a blue-eyed boy."
This father, Reyman Dittu, is of Kashmiri origin and left Pakistan for London, where he designed and sold clothes at a stall on King's Road and met Marybeth Dittu, who is from Missouri. In the '70s they moved to San Francisco to live the typical counterculture life, making tie-dyes in their apartment in the famous Haight-Ashbury neighborhood. They are still active with the brand but have handed over their operations to son Omar and retired to focus on the bigger picture.
At the age of 38, Omar has worked his entire life in the family business, currently based in Los Angeles. He developed a cult following for Bila77 in Japan, where he successfully sold reproductions of the brand's vintage looks before COVID threw the company for a loop.
Contacted the week before the exhibition at MAGIC At the Las Vegas trade show, Omar Dittu was filled with excitement as a new brand debuted their wares. "This amazing team has been through a lot with COVID," he said, "and getting through it all with this new, inspiring lineage is key to the success I know we will have. We are a small team but we work hard."
Bila77 is manufactured in India with factories the Dittu family have worked with for over 30 years, proving that 'family business' can sometimes mean a global family.