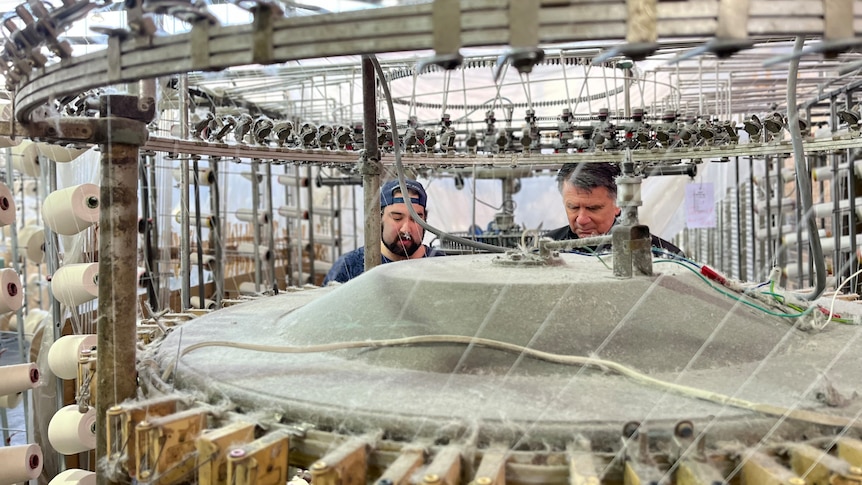 Australian fashion company that thrives on the Paris catwalks but struggles at home
This isn't the kind of place you'd expect to see the early days of couture fashion.
Melbourne Textiles Knitting is deep in an industrial suburb, almost indistinguishable from the factories that surround it.
However, inside is where the magic happens.
The fabrics produced here end up on the catwalks in Paris, Milan and New York.
"We work with a lot of the famous French labels," says business owner Stephen Morris-Moody.
Brands like Chanel and Balenciaga, the guys who love non-disclosure agreements.
"Yeah, you said it, I didn't," he laughs.
"Some days I still pinch myself when I see our stuff on the catwalks in Europe. I'm like, 'Gosh, I have a very small niche business in Melbourne and I sell to iconic labels around the world. '"
Many Australian and US labels also buy the company's knitwear.
But this is a difficult business. Not because there is no demand, but because there is too much demand, coupled with crippling trade tariffs and an underskilled workforce.
"We don't have enough skilled workers"
Much of the Australian-made fashion industry is feeling the pain.
Demand for Australian-made clothes has risen by as much as 400 per cent in the last two years as labels realize it's the only way to get stock on shelves for sale quickly.
Manufacturers can't keep up: they're hitting back at big Australian brands, telling them they just can't make the clothes here.
"The problem is that we don't have enough skilled workers in the industry," explains Leila Naja Hibri, chief executive of the Australian Fashion Council.
The migration of skilled workers has come to a standstill during the pandemic and none of the 82 state-subsidized training occupations are trending anymore.
"I mean, I'm stunned that we don't have an apprenticeship and internship program," she said.
"This industry – this $27.2 billion industry, which exports twice as much as beer and wine combined and employs more than utilities and mining, employs about 489,000 people in Australia – has long been forgotten."
There are promising signals from the new federal government. It is promised to revise the decision on the financing of apprenticeships.
"The fact that there are some occupations that are not on the list worries me," Skills and Training Secretary Brendan O'Connor told ABC 7.30.
"Here we have the opportunity to provide the skills and manpower for the employers who want to make clothes here."
"I just wish we could find more people"
Mr. Morris-Moody can't wait to see if and when that will happen.
His upper knitting technician Josef Berka wants to retire.
"There are only a handful of people in Australia who know how to use these machines and they're all close to retirement," he explains.
Textile student Jason Rappetti called for a job at just the right time. He has been Josef's apprentice for a year and a half and is learning how to operate and repair these complicated machines.
It's an expensive endeavor without government support, but it's the only option.
"He's young, he's conscientious … and it was sheer luck that we found him," said Mr. Morris-Moody.
"He's doing really well. I just wish I could find more people like him. But to be honest I don't even know where to look.
"I don't think people see a future in our industry, which is a shame because we're doing some really amazing things.
"And there's a future when we had a little bit more support, when what we're doing was recognized."