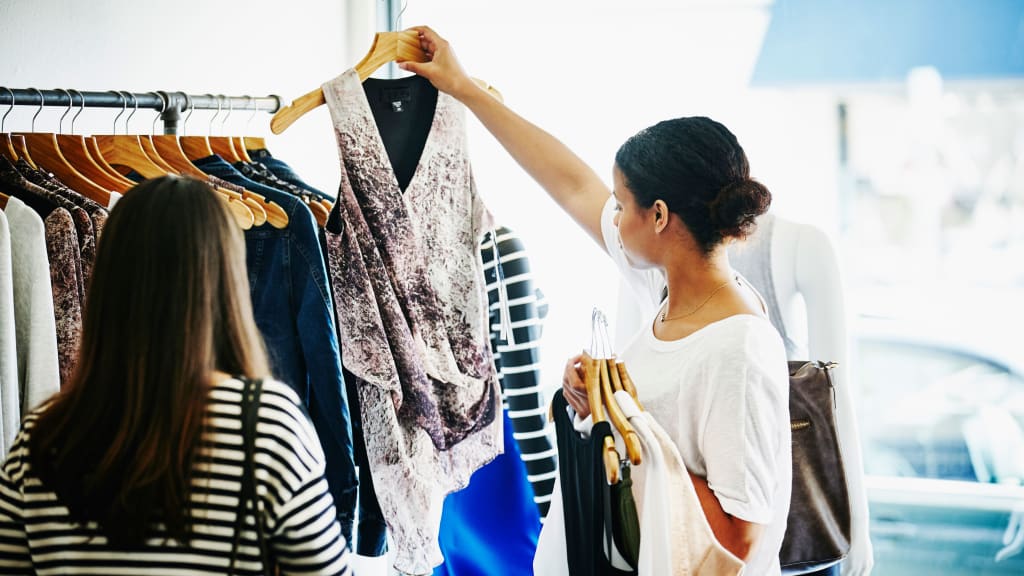 4 digital innovations that are transforming the fashion industry
Shopping for clothes looks very different than it used to.
Data from Statistics. That growth is likely to be fueled by innovations that help consumers shop smarter, more sustainably, and more personally.
Here are some ways companies are already transforming the fashion world with new digital developments.
1. Enable virtual fitting
More online clothing orders mean more returns — creating a serious sustainability problem, both financially and environmentally, says Whitney Cathcart, 55, co-founder of 3D Look, the San Mateo, Calif.-based B2B AI-powered virtual fitting company. Founded in 2018, 3D Look allows online shoppers to create a custom avatar by submitting 2D photos. With their avatar, they receive individual fit and size recommendations. The goal, says Cathcart, is to help people buy clothes they know will actually fit and looking good even when there's no dressing room in sight. "We calculate over 86 measurement points on the human body and that will be the basis for our sizing recommendations."
Today, 3D Look has approximately 100 clients, including fashion brands such as 1822Denim and Dickies, and has raised approximately $15 million in funding. The biggest challenge to growth, according to Cathcart, is hiring more salespeople and getting more customers. But she is confident that demand will only increase. "If you think about how we'll shop a decade from now, we won't be sitting at our computers wondering how big we are — the items will be served to us in 3D," she says. "The digital transformation in the next five to ten years will be fascinating."
2. Helping brands assess demand
How do you avoid a pile of unsold inventory at the end of a season? Knowing exactly what your customers want and gaining a better understanding of how not to over- or under-compensate for demand. FashWire, a Seattle-based shopping app founded in 2018, aims to gamify the shopping experience for the customer. Users can discover apparel and accessories from over 400 global brands and Designers and vote on whether they like them or not, with buttons similar to those on a dating app. The data pulled from these user interactions is shared with the designers on the website, who use it to better understand customer preferences so they can drive conversion on their own websites. FashWire charges a 15 percent affiliate commission on purchases made from the platform, and there are no designer signup fees.
FashWire also claims that its technology creates a better shopping experience for users. "Our visual AI capabilities provide accurate recommendations based on past user behavior and interests, and we also use AI to continuously improve our search and discoverability tools across our platform," said Founder and CEO Kimberly Carney, 53.
3. Make shopping more personal
Shopping fatigue is something 52-year-old Julie Bornstein, founder and CEO of San Francisco-based shopping app The Yes, has personally felt. The e-commerce veteran founded her company in 2018 to help customers find the clothes they actually want without having to sift through pages of search results. Users take a style quiz when they log into the platform, and the more they interact with the platform, the better it understands their style thanks to machine learning. The Yes offers items from hundreds of contemporary brands and only shows users items that are available in their size, among other quality features. Basically, this results in a highly personal shopping experience. "We add about 500 attributes to every product that comes out of a brand's catalog so that we understand the product," says Bornstein. "Then we use AI to understand the consumer."
The Yes takes 25 percent of every sale on the site and doesn't charge brands any registration or storage fees — so it's not really a competitor for big retailers like Shopbop or Nordstrom (for whom Bornstein worked on e-commerce). 5 years). To date, the company has raised around $30 million.
4. Creating a more circular fashion system
Most people tend to carry a small portion of their closet, says Nicole Kobilansky, 36, CEO and co-founder of San Francisco-based fashion app Storey. When she launched the app in 2021, her goal was to get people to rediscover the clothes and accessories they already own, while also making it easier for them to resell items they don't care about want to separate. Users create digital versions of their closets by manually uploading photos of items or by using the app's artificial intelligence capabilities to scan their emails for online clothing purchases. From there, they can assemble outfits, resell items, and post outfit photos that automatically tag the items—giving users valuable data on what clothes they wear most often.
The Company completed an angel round in January 2021 while participating in Techstars and is currently raising pre-seed capital. Storey is pre-sales, but Kobilansky is exploring different business models, may take a cut from any resale that happens in the app, or recommend second-hand items from third-party resale sites, and charge an affiliate fee for those purchases. "In this way, we want to help people buy second-hand whenever possible," says Kobilansky.